Dirty phone talk Mistress Gemini is here to weave your dirty fantasies of perv-dom. It's like your favorite food, it's a craving that fulfils your most desire. That's how finding the right phone sex girl with a dirty mind is. You connect with me on a filthy need level. Feed the need machine. I want to own you and dominate your dirty mind into being trained by the sound of my voice. You understand what will happen when you call me, and so does that dick. It's an essential service and I service a few wonderful pets.
A good pet requires Dirty Talking Women to control and rule over them. I bet you are still trying to find that perfect Mistress that can train your cock. The voice that seeds the desire and ooze of precum at the moment she answers the phone. You anticipated it a few moments and the mere thought that yes, I will call Gemini had you growing hard. I love to control the cumming of your cock. It will be hypnotized in a way by the sound of my voice and uttering those simple words you crave.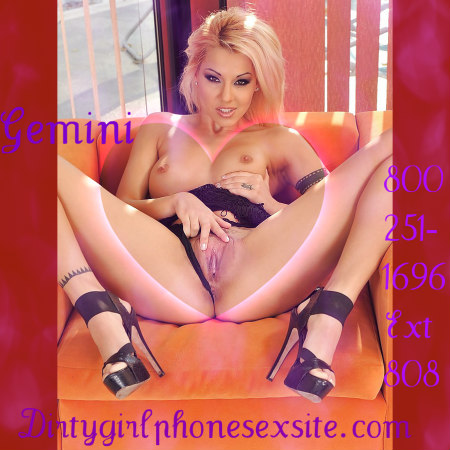 You are a cock sucker. You crave cock and semen. You are my cum eater and it takes a No limits phone sex goddess like to to control you and feed your desires. I want nothing more than to hear your excitement. You should repeat after me " I am Mistress Gemini's cock sucking faggot and I crave big black cocks". It may not be those exact words that work you up, it may be that you want to beg a big bull cock for his cum. These fundamental's do not matter. What matters most is that I, Gemini am to own you and you are my good boy.