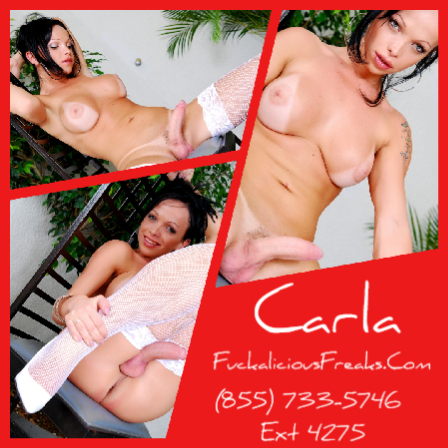 Dirty talking women can be transexuals too. I talk like a sailor. And I fuck like one too. Perhaps it is my 10-inch cock, LOL. Although I have a big cock, I am feminine. I enjoy looking good and perfecting my femininity. When I met Marc, I was honest about my special nature. Panty surprises seem risky in today's climate.
However, Marc did not know what a T-girl really was. He thought I just dressed up like a girl. Many men make that mistake. That is a drag queen or a transvestite. A shemale lives her life as a woman. But with one glaring exception, I am all woman. I have breasts and long hair. I wear make-up too. But Marc was confused. He tried to pull my hair off because he thought I was a transvestite. This is no wig.
I brought him home. Even though I knew it was risky, I wanted to give him a proper education on shemales. An education that included a hardcore ass fucking. Marc deserved it. Some of the questions he asked me were just ignorant. Not that I am a politically correct person. Not by a long shot. But he questioned my dick. He assumed I must have a tiny limp one.
Most Men Want My Big She-Cock
And I felt the need to show him that I possess a ten-inch hard cock. As I figured, my cock was bigger than his. Way bigger too. My dick can handle any ass too. Marc found out. Now, this hot phonesex babe knows not all men want a ten-inch cock in their assholes, but I do not always care.
 Although I used lube, he still screamed like a bitch. Perhaps I gave it to him harder than I would you, but he questioned my cock's ability to work. I had to show him. And show him I did. I fucked his ass for hours. Now, Marc will think twice before he questions a shemale again.