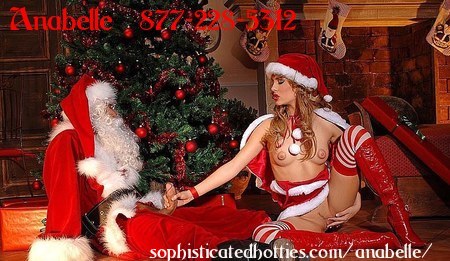 Santa Claus has always been a fascination of mine. He's so tall and broad, with those big, shiny, black boots. He's gotta have one hell of a nice, big cock under that suit! Fantasizing about it was driving me crazy!
So I decided to satisfy my craving. I went to the mall, and waited for the Santa on duty to head to the back. I followed him, stalking him all the way to his changing room. After a few moments, I let myself in. He was already in his boxers, facing away from me. Before shutting the door behind me, I drop my floor-length coat, leaving myself naked but for my bright red thong. He turned around at the sound of the door latching and locking.
The look on his face was priceless, and the excitement in his dick obvious as it sprang out of it's cloth prison. He reached up to tug off his fake white beard, but I stopped him. Crouching low, I drew his joly jimmy deep into my throat, He was moaning and rocking into my face, but I wouldn't let him cum just yet, I needed so much more! I bent over his chair, begging him to take my hot young bald pussy! He drilled his impressive dick all at once into my wet kitty, and took it harder and harder until he filled my box to overflowing with load after surging load into my throbbing box.
Nothing like going home with a cum stuffed little slit and a perfectly happy pussy of hot steaming Santa Claus cum on a cold day! Even with little droplets drizzling down my thighs to my knees, I wasn't cold.
Santa may come once a year, but this year he came more than ever, I guarantee! I know I did!